Wine Cabinet
Caveduke® Wine Cabinets has a long history in the manufacture, distribution and sale of wine cellars and  wine cabinets with presence in the five continents. Extensive experience in the distribution of different instruments for wine preservation.
In case you have any doubts about which elements best fit your needs, just contact us so that we can offer you customized service. Our experience has been forged over the years thanks to our stories of success.
We are a company specialized in wine cabinets, in a market that can provide you with the solution you need regardless of your situation.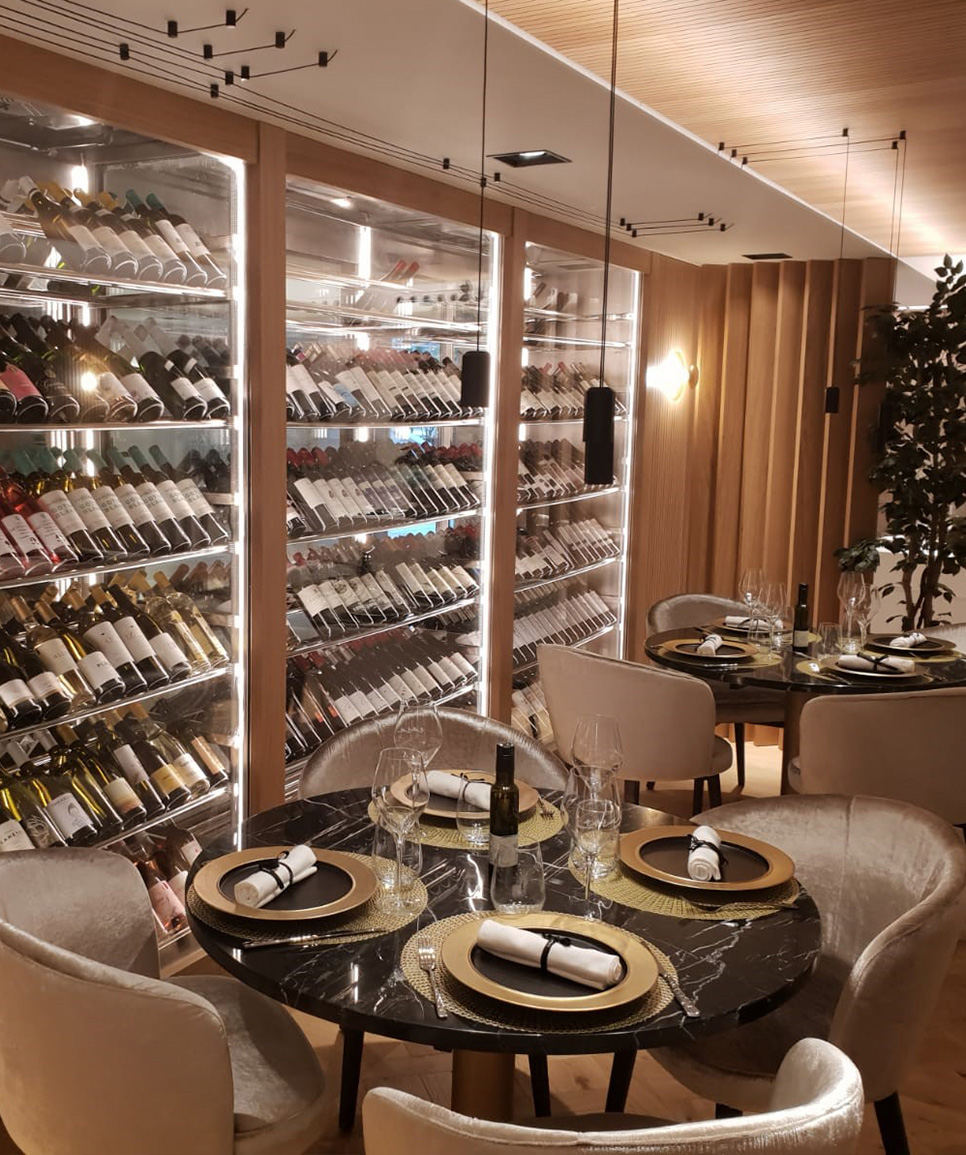 FULL SOLUTIONS
Types of wine cabinets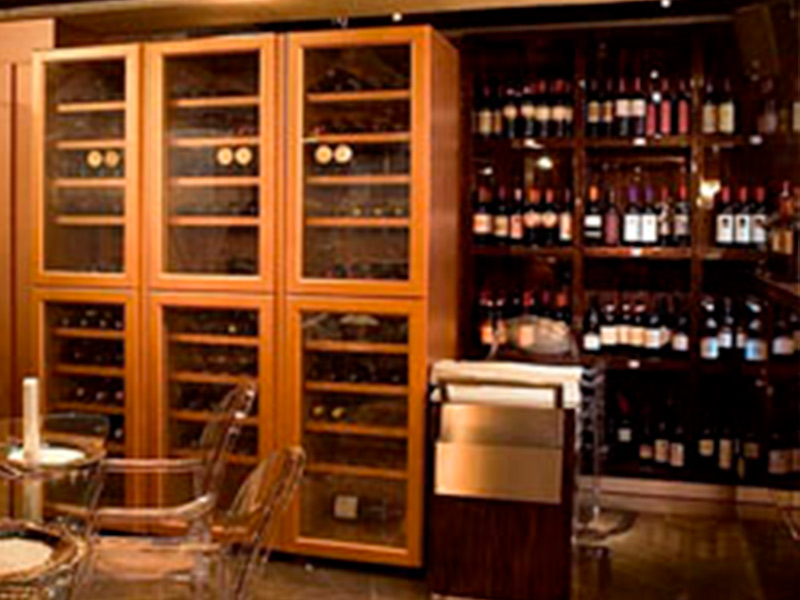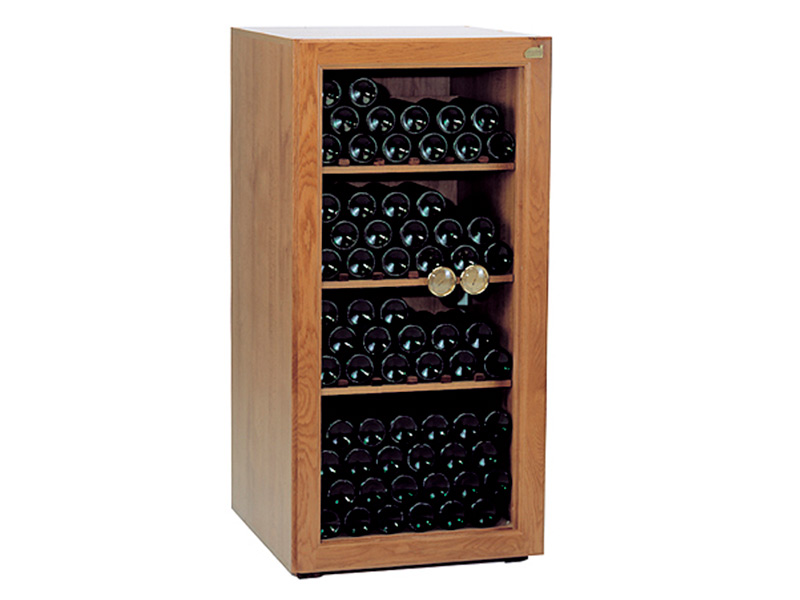 ALSO IN CAVEDUKE
We design your tailor-made project
We share our experience in wine preservation with you.
WINE CABINETS, REFRIGERATED WINE CELLARS AND WINE REFRIGERATORS
how to buy what you need
Tips for the best choice of your wine cabinet
On this page we will answer questions that our customers ask us when they want to buy a wine cabinet. Although this is not an exhaustive list, it provides clear advice on the aspects to take into account when purchasing a wine cabinet. If after reading these Q&A you still have questions for us, please send us your query through our contact form or call us at 93 562 51 11.
When is it advisable to purchase a refrigerated wine cabinet for the proper preservation of my wines?
If your home does not have an area capable of maintaining a stable temperature between 10ºC and 18ºC throughout the year, you must have  equipment capable of performing this function. A wine cabinet or refrigerated wine cellar is a refrigerated cabinet designed to keep bottles of wine at the correct temperature: by means of a thermostatically controlled refrigeration system, this device keeps the interior cool and allows you to regulate the wine cooling degree.
When should I purchase a refrigerated wine cellar with a double hot-cold circuit?
When the temperature of a room falls below 10°C, a wine cabinet loses its functionality: since it cools, it cannot raise its interior temperature to the set reference temperature.
To solve this contingency, the wine cabinets with double cooling-heating circuit have a system that allows cooling and heating the interior until the reference temperature is reached. For example, if the room is at 5ºC and the reference temperature is 12ºC, the wine cabinet will heat its interior until it reaches that temperature; and conversely, if the room temperature is 20ºC, the wine cabinet will cool its interior until it reaches the 12ºC reference temperature.
Should I avoid running my refrigerated wine cellar with thermoelectric or peltier systems?
The expert advice we can give you is to discard these cooling systems. Our years of experience in marketing and manufacturing climate-controlled wine cabinets have shown us that these systems, for the most part, may be suitable in cool environments, but in hot environments they are totally ineffective, especially in summer.
Is it necessary to maintain a certain humidity level inside my wine cabinet?
It depends on how long you store and preserve the wine in it. If you are going to store your wine for an extended period of time, the answer is yes. Although there are experts who argue that this is not necessary, especially if the stopper is synthetic, at Caveduke we are of the "old school" and advise maintaining an adequate degree of humidity inside the wine cabinet, in order to prevent the cork from drying out and facilitating the entry of oxygen into the wine.
What is better, to acquire a refrigerated cellar or to climatise a space?
Generally, a refrigerated cellar for up to 1,000 bottles is more cost-effective and economical than fitting out an entire space, such as a room. Above this figure, we recommend that the space be equipped with air conditioners specially designed for this purpose.
Never use air conditioners intended for cooling common rooms, as they do not generate humid cold and are not capable of cooling an entire room below 14ºC.

When should I order a customized climate-controlled wine cabinet?
If you do not have an appropriate space for housing the climatised cabinet you need, the best thing to do is to adapt it to the dimensions you have available. Contact us and we will study your case. In Caveduke we are specialists in the design of custom-made wine cabinets.
What maintenance do they require?
There are many on the market that require regular maintenance, but we advise against this type of device. We understand that users need to feel free to carry out periodic tasks and unnecessary maintenance expenses.
If your needs include having storage and service temperatures in a single wine cabinet, you need a multi-temperature wine cabinet. ALL wines evolve perfectly between 12ºC and 15ºC, even if their serving or tasting temperatures are different.
In our catalog we have models with two temperature levels in the same wine cabinet, which you can identify because its reference includes the prefix S2, such as the Avenue Wine model.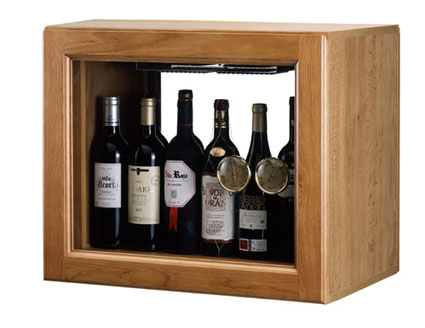 Is a wine cabinet the same as a wine refrigerator?
No, it is not the same thing. Our need to conveniently store wine in a wine cabinet should never lead us to make the mistake of storing them in a "wine refrigerator", as this type of appliance is usually characterized by a high level of vibration and a lack of humidity control inside, two factors that seriously damage the evolution of the wine.
In a relatively short time, the vibrations break down the particles in the wine and impoverish its flavor, causing it to taste like an oxidized wine.
On the other hand, the lack of humidity seriously damages the condition of the cork that closes the wine bottle and ends up giving way to oxygen, which penetrates and ends up oxidizing the wine, spoiling it, something that must be avoided at all costs.
Cheap wine cabinets are the fastest way to spoil your wine
Cheap wine cabinets are usually machines that work with thermoelectricity or peltier cells, which, if they are of low quality (normally, in cheap wine cabinets they are), do not have enough power to cool the bottles well, especially in summer, with the inside of these wine cabinets reaching over 20ºC, which seriously accelerates the evolution of the wine towards its deterioration.
These wine coolers tend to last a short time, since their cooling equipment loses performance as it accumulates dust, which causes them to operate without interruption for longer periods of time in an attempt to maintain the temperature, usually without success, and they end up "dying" within 2 years, approximately, coinciding with the expiration of the wine cooler's warranty.
For all these reasons, we always recommend wine cabinets of proven prestige, and of course, at this point we recommend CAVEDUKE®, our brand of luxury climatised wineries, a benchmark in the sector and with an international presence for more than 15 years.
Don't let a cheap wine cooler spoil your wines. In the end, you will end up changing to a better quality wine cabinet. Opt for a quality wine cabinet from the first day and always demand a technical service in your area. This will ensure that, in the event of any incident, it will be resolved effectively and efficiently, so that your wines are not affected.
The distribution system included in Caveduke climatised wine cabinets is designed to make the most of all the interior space, creating a quantity-comfort ratio for individuals as well as to professionals of the hotel and catering business and wine shops.
Wooden wine cabinet, a great choice for your private collection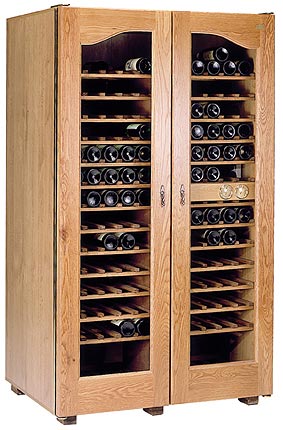 The wooden wine cabinet is a "usually" warm wine cabinet, which enhances the appearance of the room where it is located with a stately and sober appearance. 70 percent wine cabinets are intended to private homes where they require a special place so they match the rest of the furniture. Wine cabinets in this format blend in with the environment, and become one more piece of furniture in the house.
Wooden wine cabinets are also the quietest, including a built-in cooling system on the back, like a conventional household refrigerator, but with selected components to meet all the technical requirements for the storage of wine such as the absence of vibration and silence.
Steel wine cabinet, the trendy choice in design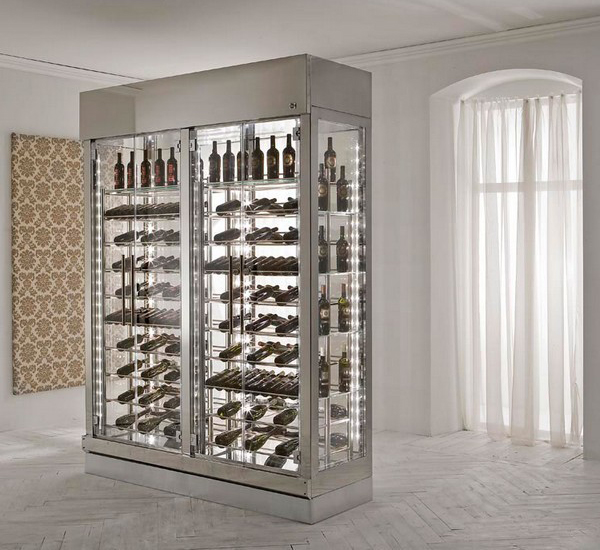 The steel and glass wine cabinets are a real success in the design sectors and look like wine "fishbowls". Our Sky-Glass or Avenue Wine models' entire structure weight is supported by the tray and all 4 sides of the wine cabinet is made of glass. This gives wine storage an air of sophistication, an avant-garde and unseen touch, giving the impression that the wine is displayed in the window of an elegant jewelry store.
The steel wine cabinets can also be lacquered or painted with epoxy paint in any color or RAL color.
In our case we use only the best quality steel and we offer the customer options in matte, satin or mirror steel. It is also possible to combine the steel, such as making the trays in mirror stainless steel and the outer "front" in matte steel.
Glass wine cabinets, a step forward in differentiating from the rest.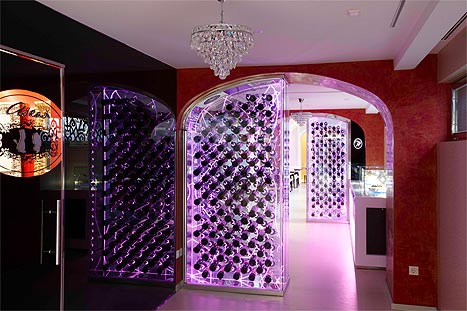 In Caveduke models with no frame all around, climalit glass or laminated glass is used. The rest of the sector usually uses a frame around the entire periphery of the door.
Tailor-made wine cabinets, so you can choose exactly what you need.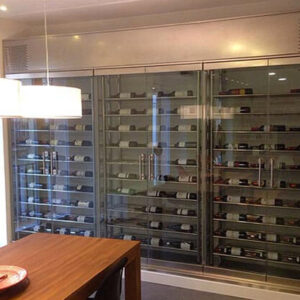 As manufacturers, we are experts in the manufacture of custom models, because nothing will give us more peace of mind than knowing that the wine cabinet ordered will comply with an exact pattern of measures for the room where it will be placed.
Just give us the height, width and depth and some simple design guidelines and we will manufacture your customized wine cabinet in a very reasonable period of time —usually no more than 15 days, except for very complex models.
A tailor-made wine cabinet at a standard price… in Caveduke we know that a quality wine cabinet does not need to be too expensive — and creating a customized wine cabinet means adding an inestimable extra cost to the product.
Embedding or integrating a wine cabinet… creating a wine cabinet to measure opens up the possibility of embedding it inside the kitchen cabinet or the furniture in the living room, so that only its door bottles are visible.
Customize your wine cabinet or make it super personalized… With Caveduke you have the option of adding extras such as sliding trays, steel doors and wooden casing, doors of one color and casing of another, or vice versa… Your imagination is the only limit in the design that we can offer you, to manufacture your wine cabinet.
Types of wine cabinets by material, size and price
We specialize in the distribution of all types of wine cabinets in Madrid, Barcelona and anywhere in the world. Our goal is that the customer can find a model according to their needs.
Here you can find a list of different wine cabinets according to the material of manufacture, size and price:
Steel&Glass Wine Cabinets
Custom Wine Cabinets
Small Wine Cabinets
Cost-Effective Wine Cabinets
Wine cabinets that will make you get a very elegant style in your home, in addition to keep your wine in excellent condition, ideal for any special situation. In addition, there are different types of wine and many of them must be preserved in a unique way. Fortunately, thanks to our wine cabinets we will be able to preserve the best flavor of the wine so that, when you decide to taste that special bottle, you will not regret it.
Assessment of what you may need
When a customer decides to buy a refrigerated cellar, and they see so many models available, it is possible that they are not very clear about exactly what they need. For this reason, we put at your disposal a complete specialized team that will be in charge of giving you the advice you have been looking for.
It is important that you consider whether you want a winery for aging certain wines, or for preserving them for regular use, or you want to have both possibilities. Perhaps you prefer a wine cabinet or wine refrigerator just to age the bottles for a long time, or as in most cases you simply want to keep the wine bottles ready to be served at the ideal temperature.
We know that, even though two customers may seem to have the same needs, they may actually have very different requirements. We assure you that no matter what you need, we will help you find the right wine cabinet for any occasion.
Variety is the spice of life
We keep our wine cabinets catalog up-to-date so you can easily find the model you want. We analyze the latest models on the market and look for the best way to integrate them. However, whenever we introduce a new model, we always contact the manufacturer so that our customers will get a durable and high quality wine cabinet. We also look for a timeless style; that is to say that, no matter how much time passes, the wine cabinet adapts perfectly to any type of decorative style.
Find the best price for your wine cabinet any time
We all know that a wine cabinet is an essential element to keep the wine in excellent conditions of conservation, for all wine lovers –individuals or companies, or for any other requirement.
We guarantee that all our models, without sacrificing quality, will always offer the best prices without any doubt. The idea is that, regardless of the budget you have in mind, we will adjust to it.
Wine Cabinets, overview and key points
Now that we have covered all the essential points in the knowledge necessary for the purchase of a wine cabinet for your home, restaurant, hotel or company, we'll show you an overview of the key points for your wine cabinet.
Stable temperature (12 – 15 degrees)
Humidity (about 65%)
Absence of odors
Absence of vibrations in the wine cabinet
Glass with U.V. ray filter – a stable temperature range throughout the wine cabinet.
With the fundamental operating data clear, we only have to choose the type of wine cabinet we are going to order.
Caveduke Wine Cabinets can get your wine cabinet in the colors and sizes you want, in a wide range of materials, such as steel, glass, wood and glass and even polylaminates of any texture and colour.
With all this you will achieve two fundamental things: the wine will be in perfect conditions of conservation and tasting and, the wine cabinet will perfectly match the décor of its surroundings.
That is why Caveduke Wine Cabinets is currently the most prestigious brand of wine cabinets on the market without competition in its range. For us, the wine cabinet is not a simple complement for the wine but a perfect complement so that wine reaches an excellent aroma, flavor and body.